In today's world, where concerns about sustainability, biodiversity, and chemical-free food production are on the rise, San Michele Organic Farm stands out as an example of a farm that prioritizes high-quality, authentic products while also adhering to organic farming practices that promote environmental preservation and consumer well-being.
Table of content:
From Soil to Table
San Michele Organic Farm, located in the heart of Chianti just 15 km from Florence, is committed to producing high-quality products while respecting the environment.
The estate is located between two important regions of wine production: Chianti Colli Fiorentini and Chianti Classico. San Michele Organic Farm produces excellent wines thanks to the richness of its soil and the organic methods they apply to obtain perfumed, velvety, and strong character wines. The farm also produces extra virgin olive oil, Cinta Senese salami DOP, organic honey, spelt, small garbanzo beans from Chianti, and cornflour from Marano. All of these products are authentic specialties and a genuine result of 100% organic farming.
Not only do our products taste great, but they are also produced sustainably, making them an excellent choice for environmentally conscious consumers.
Biological Cultivation at San Michele Farm
The farm's sustainable practices begin in the vineyards and olive groves. San Michele Organic Farm uses only organic fertilizers and no pesticides, which means that no synthetic chemicals are used in the production of their products. This helps to protect the soil and surrounding ecosystem from harmful chemicals that can pollute the environment.
San Michele Organic Farm decides to make organic Tuscan products their strength, so it is certified to guarantee only the highest organic production.
San Michele Organic Farm is committed to sustaining biological cultivation. The conscious decision to buy only biological, low-environmental impact food helps future sustainability.
San Michele Organic Farm takes great pride also in their production of high-quality extra virgin olive oil, which is another specialty of the estate. The farm's 270 acres of olive tree groves provide the perfect environment for the olives to grow and mature. The olives are harvested by hand and pressed on-site within 12 hours, ensuring that the oil maintains its exceptional quality and flavor.
San Michele's extra virgin olive oil has a rich green color with golden reflections, a fruity and delicate taste but with a slightly spicy finish. It is perfect for use in salads, dressings, and drizzling over grilled vegetables or meat. The oil is also rich in antioxidants and monounsaturated fats, making it a healthy and delicious addition to any diet.
By choosing to buy extra virgin olive oil from San Michele Organic Farm, consumers can feel good about their purchase knowing that they are supporting a sustainable, environmentally conscious farm. Not only is the product delicious, but it is also produced in a way that helps to protect the planet for future generations.
Cinta Senese: The Heritage Breed that Sets Our Farm Apart
One of the main attractions of San Michele Organic Farm is their Cinta Senese breed of pig. This breed has existed for centuries and is typical of the province of Siena.
The Cinta Senese has managed to preserve over the centuries the characteristics that make it unmistakable, such as the white band over its body, the elongated head, and the non-curled tail. This type of breed is grown under special conditions and strict regulations that over time contribute to the richness and succulence of the flavored meat. It is subjected to DOP protection (Denominazione di Origine Protetta), which is a category given to foods whose peculiar qualitative characteristics depend exclusively on the territory in which they are produced.
The meat is typically used in the Tuscan area to produce cold meats such as prosciutto, lardo, and finocchiona (among others).
At San Michele Organic Farm, they produce their own Cinta Senese products. Their 24-month aged prosciutto, air-dried capocollo filet, and their delicate finocchiona (Fennel flavored salami) are just some of their specialties.
The quality of their meats, combined with the organic process, allows them to obtain outstanding cold cuts, high in quality and rich in flavor.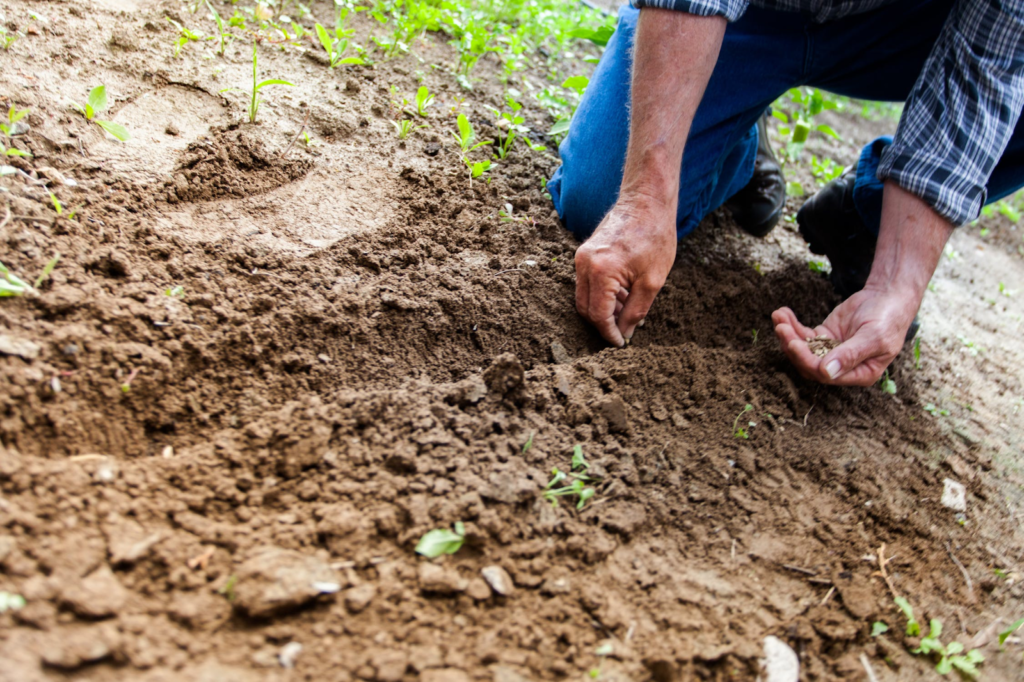 A Prime Example of the Italian Food Model
San Michele Organic Farm also offers a range of other products, including organic honey, saffron, spelt, small garbanzo beans from Chianti, and cornflour from Marano. All of these products are produced using the same organic and sustainable farming practices as the rest of the estate's offerings, ensuring that each item is of the highest quality and authenticity.
The Italian Food Model has been recognized as a well-balanced example of authenticity, nutritional balance, and richness in taste. Italian Cuisine and its products are sought after all over the world because of the careful consideration given to the sourcing of ingredients and the production process. This traditional farming method emphasizes the use of biological agriculture and biological apiculture. It prioritizes the respect and observation of natural cycles in the land, without the use of pesticides, additives, or chemical fertilizers.
The farm is therefore a prime example of how the Italian Food Model can be put into practice. It has its foundation in this philosophy, which values authenticity, nutritional balance, and a rich taste. This is reflected in the way we grow the produce and raise the animals, using organic and sustainable methods that respect the natural cycles of the land. By choosing to buy our products, you are not only supporting a local, family-run business but also investing in a sustainable and ethical food system that is based on traditional farming practices.
San Michele Organic Farm: A Sustainable and Delicious Choice
In conclusion, San Michele Organic Farm is a shining example of a sustainable farm that produces high-quality products. A perfect example of how agricultural production can be sustainable and help future sustainability, hence a great choice for consumers who want to make a positive impact on the environment. So, the next time you're looking for some delicious wine or extra virgin olive oil, consider choosing San Michele Organic Farm and support sustainable agriculture!
By choosing products from San Michele Organic Farm, consumers can contribute to a more sustainable and eco-friendly lifestyle while also enjoying the authentic flavors of Italian cuisine. By supporting San Michele Organic Farm and their commitment to sustainable farming practices, customers can feel good about the quality of the products they are purchasing and their impact on the environment.
In a world where many agricultural practices can be harmful to the environment, San Michele stands out as a beacon of sustainability and responsible farming.